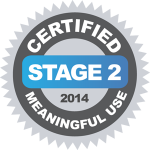 July 1, 2014 - OneTouch EMR is proud to now be 2014 meaningful use certified as a complete EHR. According to the government, Meaningful use is using certified electronic health record (EHR) technology to:
Improve quality, safety, efficiency, and reduce health disparities
Engage patients and family
Improve care coordination, and population and public health
Maintain privacy and security of patient health information



Ultimately, it is hoped that the meaningful use compliance will result in:
Better clinical outcomes
Improved population health outcomes
Increased transparency and efficiency
Empowered individuals
More robust research data on health systems



Health care providers can receive financial incentives up to $44,000 for switching to OneTouch EMR and demonstrate Meaningful Use. Contact us today to learn more! See our full disclosure here.