Dr. Robert Abbate, an internal medicine physician, also runs OneTouchEMR, which developed an iPad app for implementing and managing electronic medical records.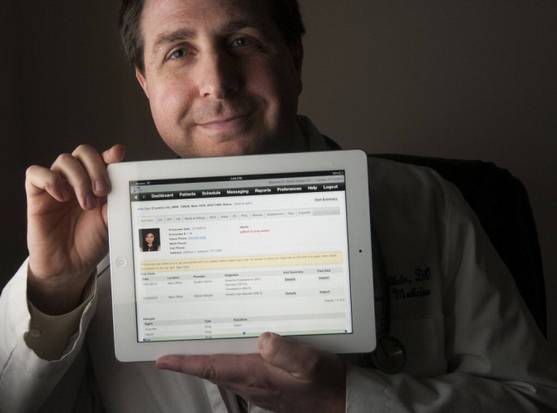 Published: 16 January 2013 07:24 PM Original Post is found here
by HANAH CHO The Dallas Morning News Staff Writer
When Dr. Robert Abbate was setting up his medical practice several years ago, he searched for the right technology to help manage patient records electronically.
He found the existing products complicated and clunky. So he built his own.
"I didn't like what I saw in the market," said Abbate, an internal medicine physician. "You could tell developers built it and not doctors."
Today, in addition to seeing patients, Abbate runs OneTouchEMR, a Dallas-based startup that sells an iPad app that implements and manages an electronic health records system.
OneTouch is one of many large and small firms trying to cash in on the move toward digitizing health records. In 2009, President Barack Obama and lawmakers authorized billions of dollars in federal money to provide incentives for doctors and hospitals to adopt certified electronic medical records systems.
So far, though, the results have been mixed.
A study released last week by the Rand Corp. pulled back on its lofty predictions that wide adoption of electronic health records would save the health care system at least $81 billion a year.
The group's second look found that the cost savings haven't come through because systems for electronic health records are not easy to use and do not allow doctors, hospitals and other health care providers to share information across platforms.
Still, the industry is poised for growth.
The size of the U.S. market for electronic medical records software was $2.8 billion in 2012, up from $1.9 billion in 2009, according to IDC Health Insights, an independent research and advisory firm.
That market is expected to grow to $3.8 billion by 2015.
For startups like OneTouchEMR, the place to start is with physicians who have smaller independent practices, said Judy Hanover, research director at IDC.
Only 30 percent to 40 percent of small and solo practices with fewer than three providers have implemented electronic health records, she said.
That is the approach that OneTouchEMR is taking. Abbate and his team raised $1 million from other doctors and angel investors but are seeking another $1.5 million for sales, marketing and brand awareness.
Abbate, a software developer who spent several years running a Web hosting company before medical school, focused the development of OneTouchEMR around the iPad, which was released in early 2010.
He knew some doctors were early technology adopters and were interested in using the iPad. Plus, government incentives for hospitals and doctors to convert to digital records were in place.
Abbate used his medical school training to develop OneTouchEMR. The app mirrors the paper chart work flow of assessing and diagnosing a patient's needs, making the process intuitive for doctors, he said.
That approach helps increase productivity, he said. The app is also certified by the government, which means doctors and practices that use OneTouchEMR can be eligible for the federal incentives.
Besides iPad usage, the cloud-based app is also accessible on the Web and on Android systems.
Abbate launched the app in June and so far, the startup has about 100 clients. For a smaller practice focused on costs, Abbate said his system is affordable. Monthly subscriptions start at $199 per doctor.
"It's satisfying for me to know I could help my colleagues," he said.
One of them is Dr. Howard Anderson, who along with three others operates an internal medicine practice in Dallas.
"What I like about the program compared to the old program is the ease of use and the flow of the program," Anderson said.
Anderson's practice used its previous electronic medical records system for eight years, and the information was stored inside a server at the office.
Because OneTouch's app is cloud-based, there are no worries about maintaining a server and other equipment at the office, he said. Anderson uses the app on his desktop at the office and can access it on an iPad if patients call at home.
"The iPad does give you a lot of flexibility that you otherwise don't have," Anderson said. "My patients download the app and have access to their records."
Follow Hanah Cho on Twitter
at @HanahCho.
Original Post is found here